Dental Implants – Kansas City, MO
Tooth Replacement That Lasts for Life
No one ever expects to lose a tooth, but it's more common than you might realize. In fact, 120 million Americans have lost at least one tooth. Thanks to the latest advancements in dentistry, you can replace your missing teeth with a nearly perfect replica of your natural structure. Dr. Michael C. Byars can rebuild your smile with dental implants in Kansas City – the only tooth replacement solution that looks, feels, and functions just like your original pearly whites. Contact our office today to get started!
Why Choose Michael C. Byars, DDS for Dental Implants?
Entire Dental Implant Process Performed In-House
3D Cone Beam Scanner Guarantees Precise Dental Implant Placement
Dental Insurance Accepted & Flexible Financing Available
What Are Dental Implants?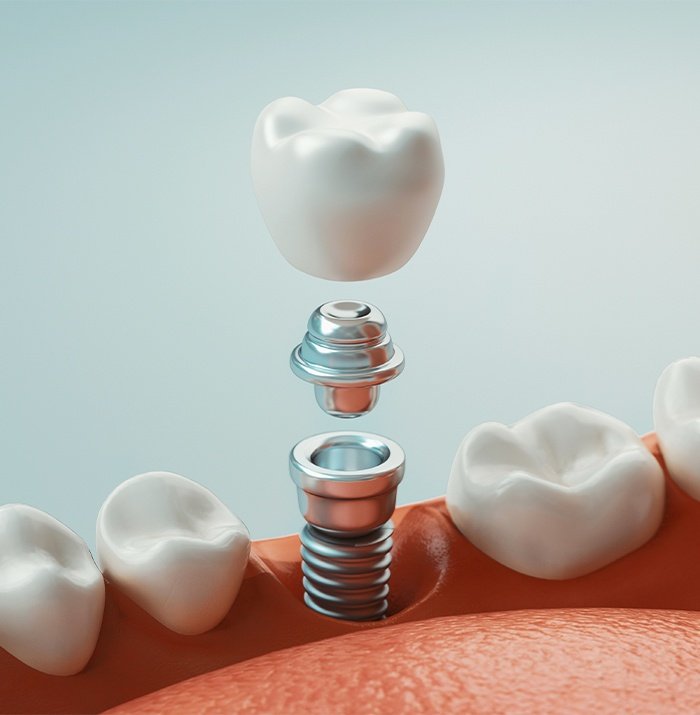 The reason dental implants are so unique is because they are the only treatment that actually replaces the entire tooth from root to crown. Once the implant (a titanium post) is placed into the jawbone, it actually bonds with the surrounding bone just like a real tooth, and this provides the foundation for a crown, bridge, or denture. These new roots help the replacement teeth look more natural and not put pressure on the nearby teeth and gums like regular bridges and dentures, leading to a more comfortable fit. Additionally, their sturdy foundation in the jaw enables them to potentially last a lifetime, making them a quality investment over alternative solutions.
The 4-Step Dental Implant Process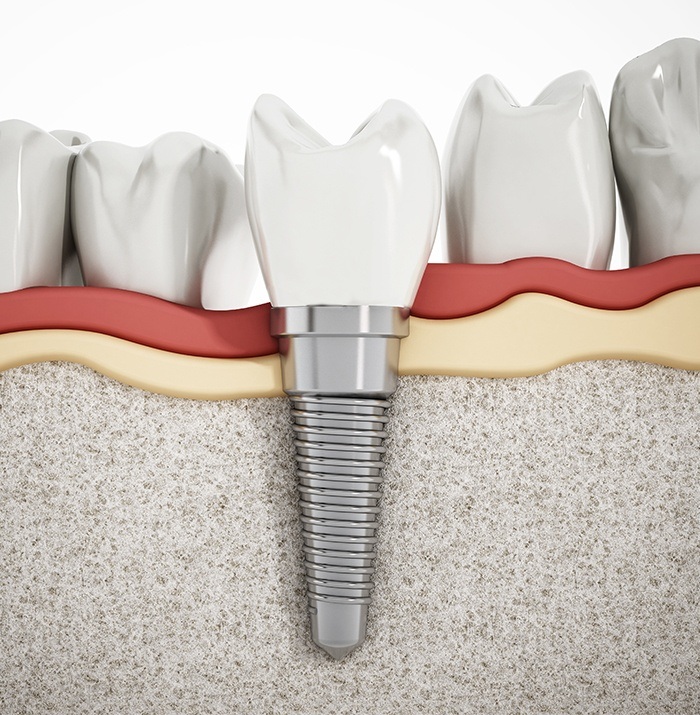 Replacing your missing teeth with dental implants takes longer than it would with bridges or dentures alone, but their longevity makes them worth the wait! While everyone's dental implant journey is different, here are the four basic steps you can expect in the dental implant process:
Initial Dental Implant Consultation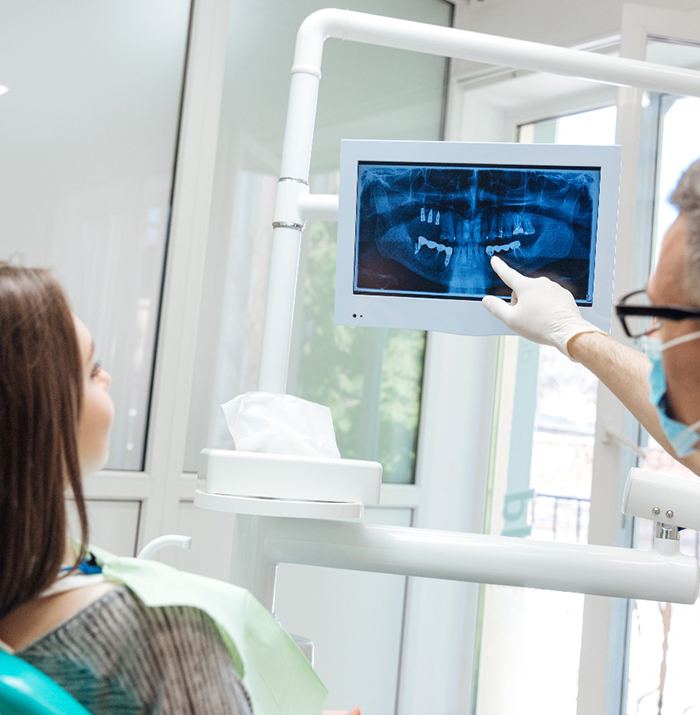 The process begins with a consultation with Dr. Byars, your implant dentist in Kansas City. He'll thoroughly examine your smile and take detailed x-rays to determine your eligibility for the procedure. If your jawbone is sturdy enough, you can go ahead and schedule the implant placement surgery. If not, you might need to undergo a bone graft or sinus lift to strengthen that area of the bone so that it can accommodate the implant posts.
This appointment is the perfect opportunity to ask any questions you may have about the cost, timeline, or any other aspect of the dental implant process.
Dental Implant Surgery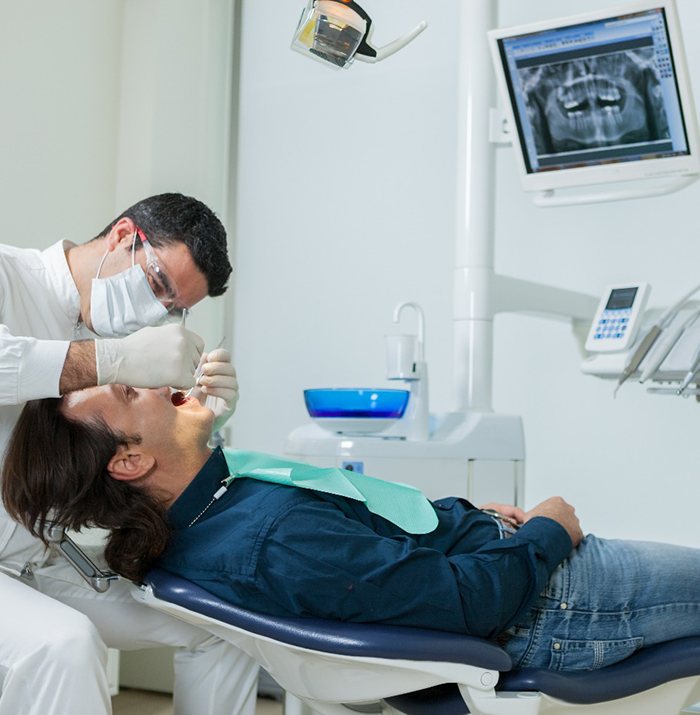 Dr. Byars has undergone advanced training to be able to perform the surgical aspect of the dental implant process himself. This saves you the time, money, and stress of being referred to an outside specialist.
Before the procedure begins, you'll be given a powerful local anesthetic to numb your mouth and ensure you don't feel pain. You might even receive sedation to soothe your nerves.
Depending on the number of implants you're getting, one or more small incisions will be made in your gum tissue to access your jawbone. Each implant is inserted at a precise location and angle. Once the posts have been placed, your gums are sutured closed, and you can begin the healing process.
Dental Implant Osseointegration/Abutment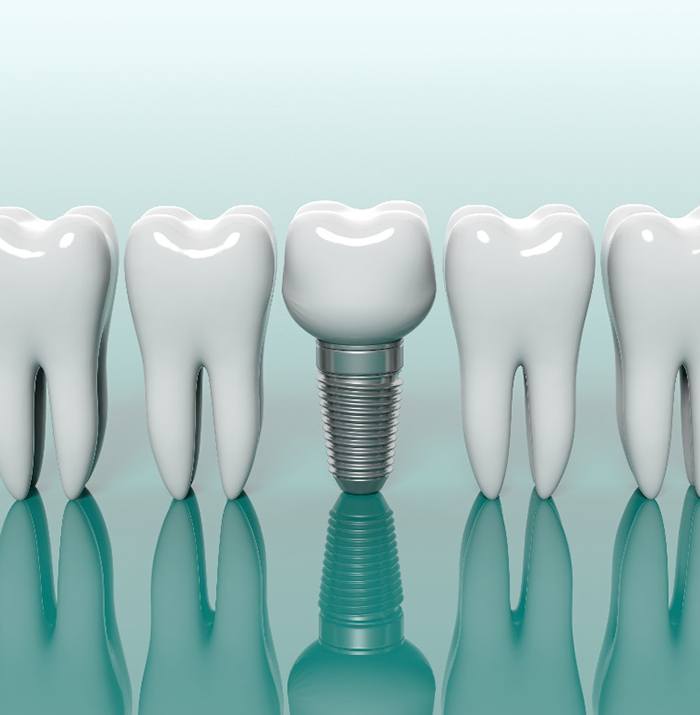 Over the next three to six months, the biocompatible titanium posts will gradually fuse with your jawbone in a process called osseointegration. After you're finished healing, you'll undergo a brief, smaller surgery so that your abutments can be placed. Abutments are little metal connectors that allow your restoration to be placed on top of your dental implants in Kansas City.
Delivery of Dental Implant Restorations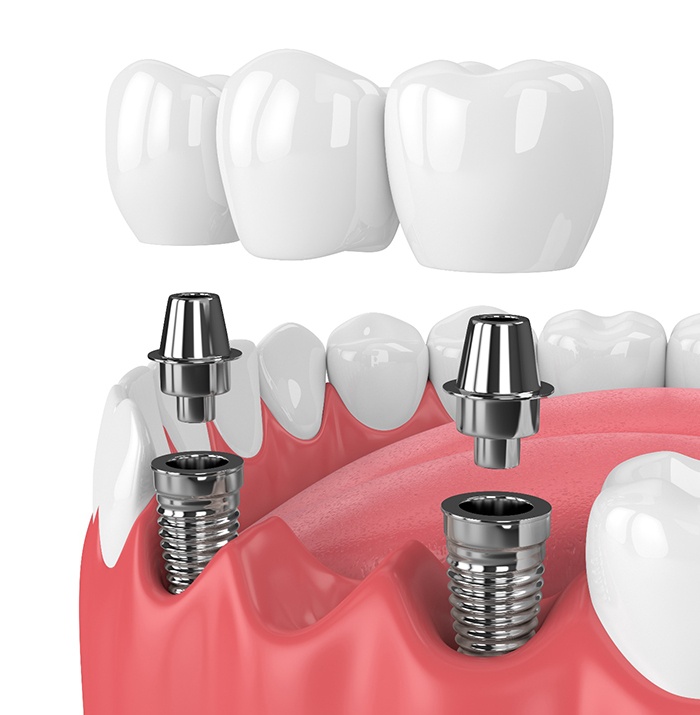 It generally takes two or three weeks to heal from the abutment surgery. After that, you'll return to our office, where we'll take impressions of your mouth to design your custom-made dental crown, bridge, or denture. The impressions are sent to a dental lab, where they will be personalized to mimic the pearly whites you were born with. Once your restoration has been placed, you can enjoy all of the benefits of a complete, healthy smile once again!
Benefits of Dental Implants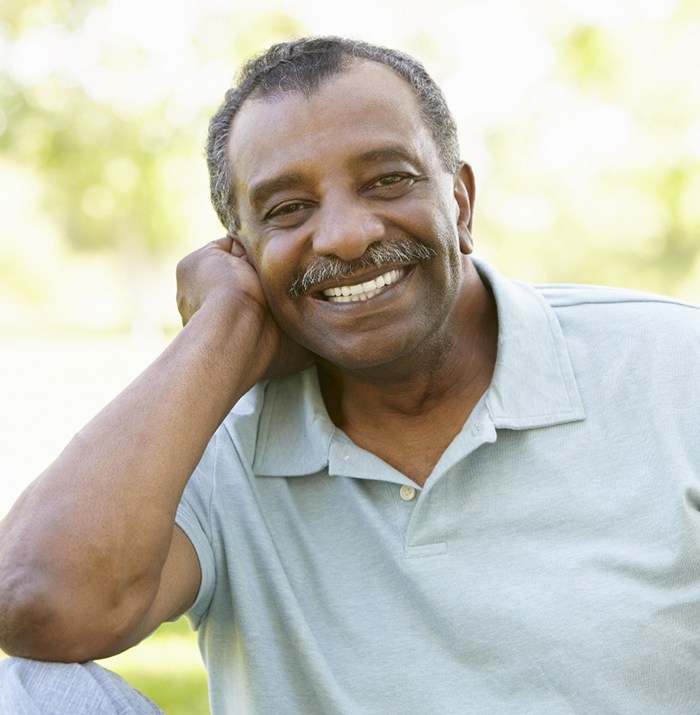 Dental implants offer you a set of unique advantages that you won't get with any other tooth replacement, including:
Health: Dental implants are the only tooth replacement solution that prevents the deterioration of your jawbone after tooth loss.
Strength: Rooted in your jawbone, dental implants allow you to chew all of your favorite foods with ease.
Longevity: With proper care, dental implants can last a lifetime.
Maintenance: Because they look and feel like your natural teeth, dental implants require the least amount of care compared to other options. Simply brush, floss, and see us for routine dental appointments to help them last for 30 years or more!
Who Dental Implants Can Help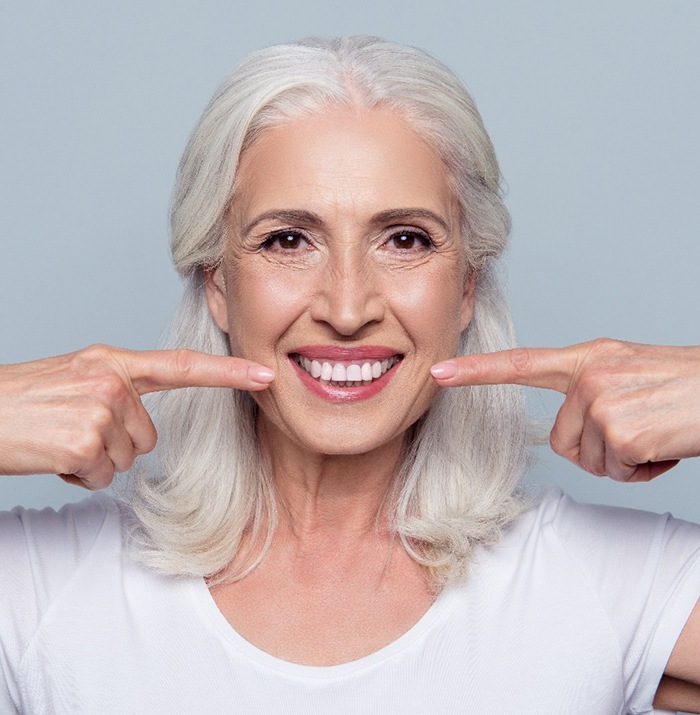 Once your dental implants are in place, we will fix a permanent restoration on top of them to complete your smile. The type of restoration that you need will depend on the number of teeth that you're missing.
Missing Single Tooth
We can help patients missing one tooth restore the lost structure by attaching a dental crown to a single implant post. This implant-retained crown will seamlessly blend into your smile, restoring its beauty and function. Our dental crowns are custom-made to match the size, shape, and shade of your natural dental structure.
Missing Multiple Teeth
To replace two consecutive teeth, we'll attach two connected crowns to a single implant post. Patients missing three or four consecutive teeth will likely need a series of connected dental crowns with an implant post at both ends of the restoration.
Missing All Teeth
Patients with more advanced tooth loss may want to consider supporting a partial or full denture with a number of dental implant posts. Partials are crafted to replace any number of missing teeth, both consecutive and nonconsecutive, by attaching the replacement teeth to a gum-colored base molded to fill the gaps. Full dentures are similarly crafted and restore an entire arch of missing teeth. We will anchor the prosthetic to the minimal number of dental implants that will still provide adequate support.
Learn More About Implant Dentures
All-On-4 Dental Implants
With All-On-4, a patient can literally have an entire row of teeth replaced in a single appointment. The procedure involves placing just four implants strategically along the jawbone and then immediately attaching them to a denture. Two are located towards the front where the jaw is naturally thicker, and another two are positioned at the back on each side at an angle. This approach allows many patients with bone loss to get implants without having to undergo a grafting procedure first.
Learn More About All-on-4
Understanding the Cost of Dental Implants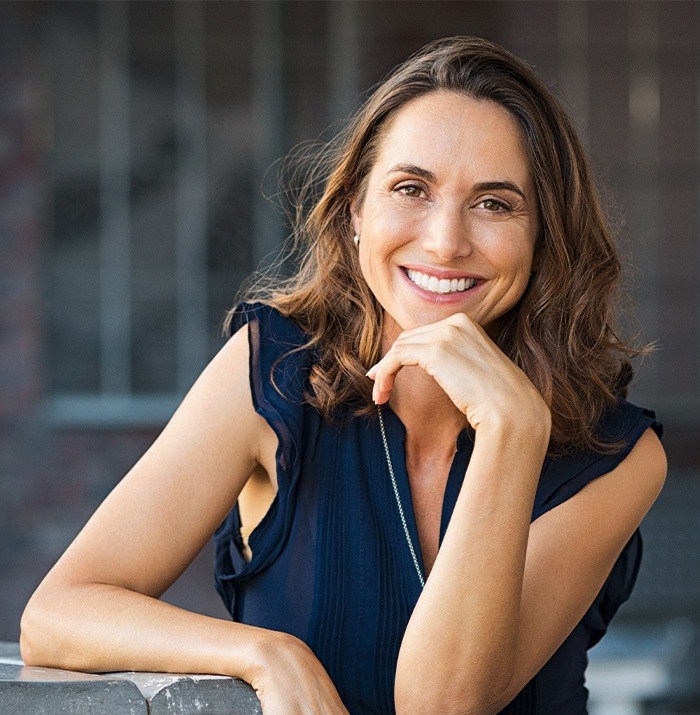 The cost of your dental implants can greatly vary based on factors like your oral health, the number of teeth you're missing, and the condition of your jawbone. That's why it's hard to give you a precise estimate without examining your mouth first. Additionally, it's important to understand that the type of restoration that you need will also influence the total cost of your treatment. Dr. Byars, your expert implant dentist, will carefully examine your mouth to develop a personalized treatment plan that includes a price estimate. We also accept insurance and have financing options to provide everyone with the quality and affordable dentistry that they deserve.
Types of Dental Implants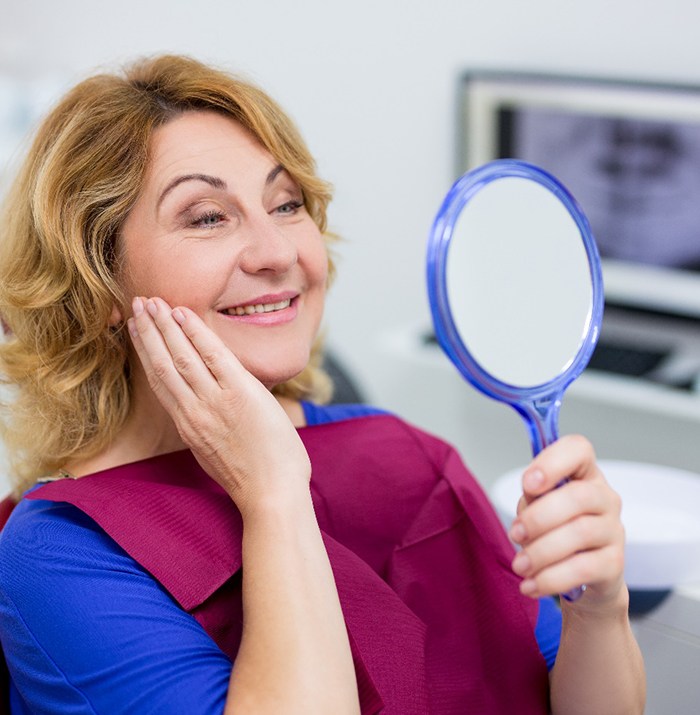 It is important to understand that each patient's mouth is unique. Therefore, every dental implant process is unique as well. There are many different types of dental implant treatments. For example, if you are missing just one tooth, you will need a single implant with a single crown. This will logically cost less than a multi-unit, implant-supported bridge. A full mouth reconstruction, which usually requires four or more implants, comes with an even higher price. Also, the specific techniques utilized to replace your teeth, as well as the materials used to create your final restoration, will have a bearing on the overall cost.
What Are the Stages of Dental Implant Treatment?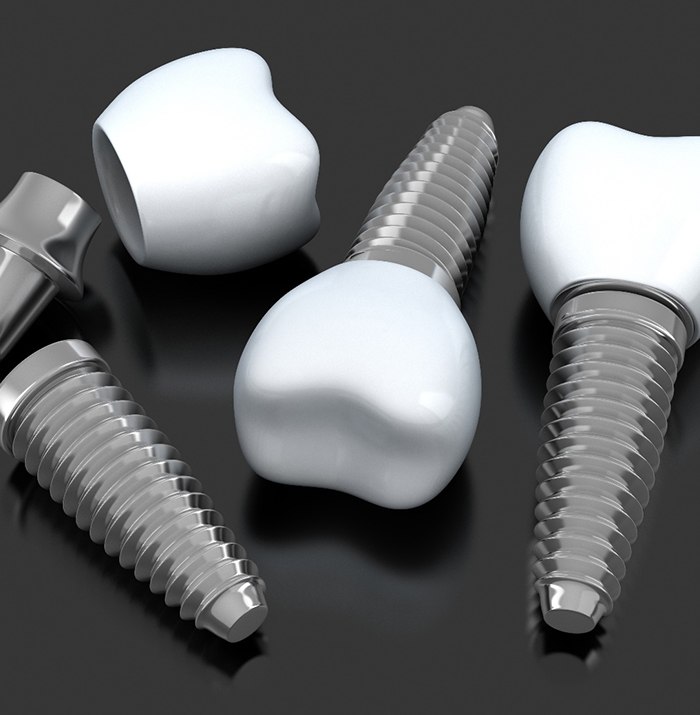 The dental implant process takes place across several steps, each of which has its own price. Some of the stages you may need to go through include:
Preparatory treatment: Some patients require a bone graft or periodontal therapy before they are eligible to receive dental implants.
Dental implant placement surgery: This is when the implants are inserted into the jawbone.
Abutment placement: You might require a second minor surgery wherein a small connector piece will get attached to the tops of your implants.
The final restoration: You will receive a crown, bridge, or denture to replace the visible portion of your lost teeth.
Are Dental Implants Worth the Investment?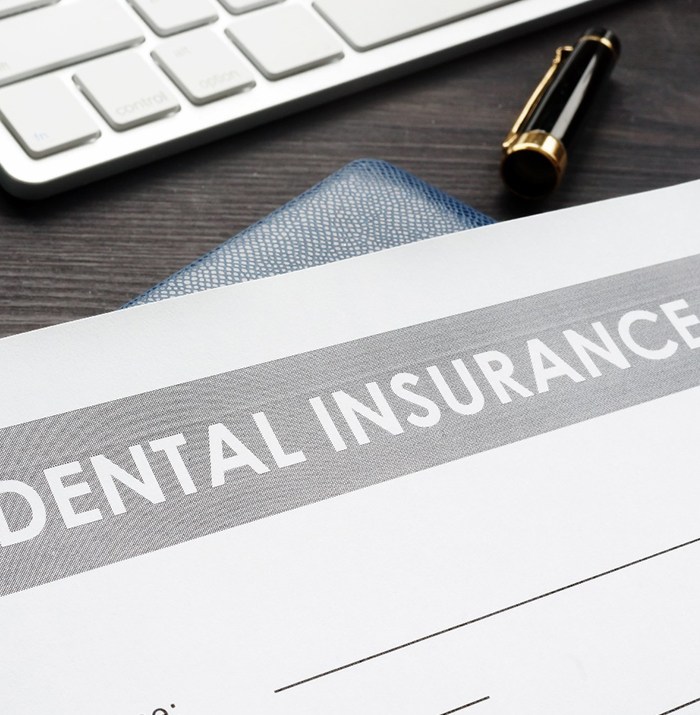 Yes! Consider two main reasons why dental implants are worth every penny you might spend on them:
They offer greater benefits than traditional tooth replacement: Dental implants function, feel, and look just like natural teeth. You might even forget that they're there!
They have the potential to last for a lifetime: Traditional dentures might last for five years or so, while a traditional bridge may last for 10 years. Dental implants, on the other hand, can last for decades. Thus, the long-term answer to the question, "What is the cost of dental implants?" may be a lower figure than the long-term cost of prosthetics that need to be replaced every so often.
Will My Dental Insurance Cover Dental Implants?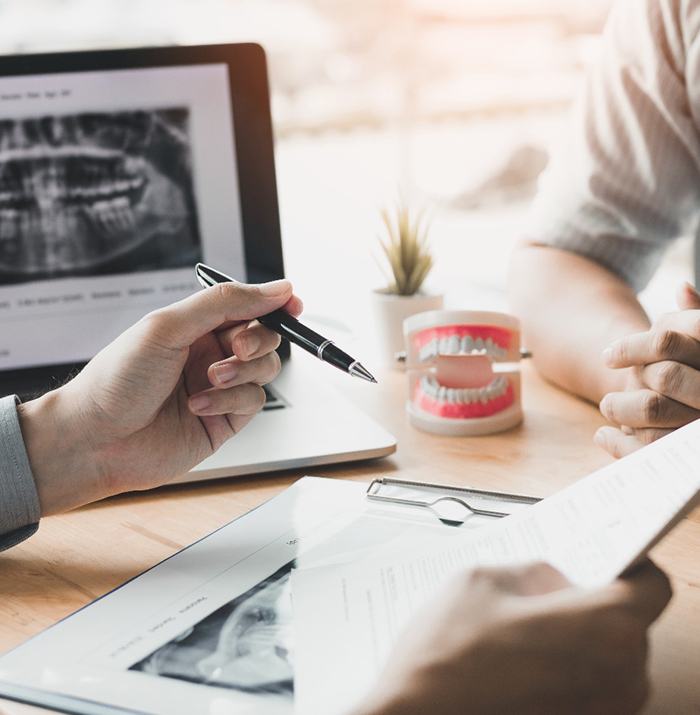 It's hard to say. More and more dental insurance providers are offering coverage for implants, but many still do not. You will have to check the details of your specific policy. Even if it does not cover the implants themselves, it might pay for a portion of your preparatory treatment or your final restoration. Our team will be happy to help you figure out the details of how your insurance applies to your treatment. We can also help you apply for low-interest financing through CareCredit. Once you explore all the available financial resources, you may be surprised to learn that dental implants are more affordable than you thought!
Dental Implant FAQs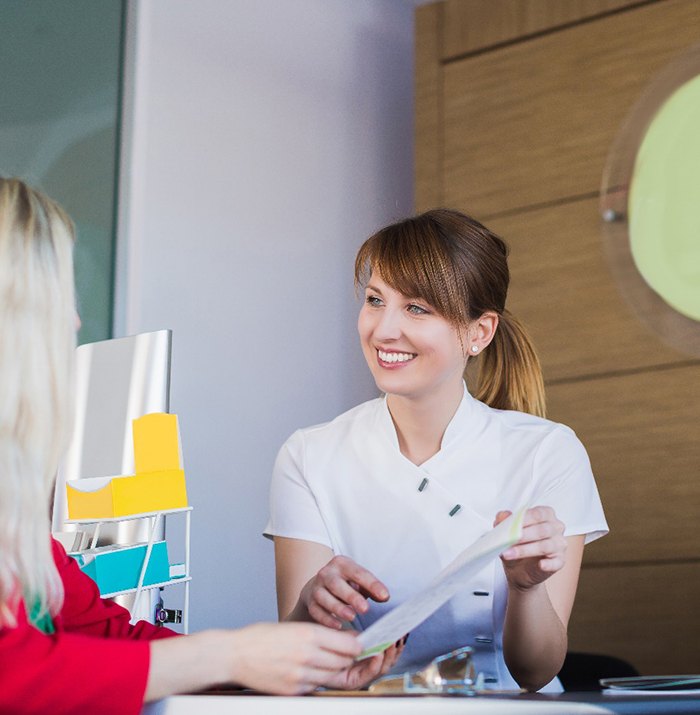 Dental implants have become one of the most popular tooth replacements for a number of reasons, but many have specific questions about them. Thankfully, Dr. Byars has put together a list of some frequently asked questions about dental implants in Kansas City. Keep reading to learn everything you need to know about them.
How Long Does the Dental Implant Process Take?
The process of receiving your dental implants can take from just a few months to over a year. Your dental implants need time to integrate into your jawbone, but this is exactly what makes them such a great long-term replacement. Your dental visits themselves won't take very long, but most patients will have to wait between three and six months for their implants to completely fuse to their jaw.
Is the Dental Implant Process Painful?
Like many surgical procedures, the placement of your dental implants has the potential to cause discomfort. That's why Dr. Byars and our team will numb your mouth as well as offer relaxing sedation to keep you comfortable. Your jawbone doesn't actually contain any pain-sensing nerves, which makes the surgery a lot less painful than it sounds. The most discomfort patients feel will be after the process. You may experience bruising and soreness, but we'll walk you through the best ways to keep yourself comfortable after your surgery is complete.
Am I a Good Candidate for Dental Implants?
The best way to know if you're a candidate is to schedule an appointment with our expert implant dentist in Kansas City. Dr. Byars will evaluate your smile and oral health to see if dental implants are right for you. The ideal candidate will usually have a strong jawbone and a commitment to good oral healthcare. However, a definitive answer can only be obtained by visiting our practice for a dental implant consultation.
Who Should Consider Dental Implants?
If you're missing any number of teeth, you should consider dental implants. They're the only comprehensive tooth replacement available today, restoring not only the crown, but the tooth root as well. Dental implants can also be used to support dentures for a secure and stable smile. This restoration can bring the appearance, feel, and function back to your grin. Contact our office today to discuss the unique benefits that dental implants have to offer.