Dental Team – Kansas City, MO
Get to Know Your
Smile's Best Friends
Friendly, knowledgeable, and ready to serve, our team is dedicated to giving you the best patient experience possible. With them, you can trust that scheduling will always be easy, your time in the chair will be comfortable, and even figuring out your payment options will be stress-free. They can't wait to meet you and have you join our growing dental family, and you can start getting to know them by reading on below.
Amanda, Practice Administrator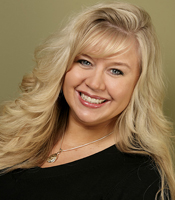 Amanda has been working in the dental field for over 27 years now, starting out as an assistant and slowly learning all the different facets of a successful practice. In fact, she's been a part of our team ever since we first opened the doors in 2007! She studied at Maple Woods Community College and has completed all levels of Dental Boot Camp. Today, what she enjoys most about her role is getting to interact with patients, as well as working for such a wonderful person like Dr. Byars.
Amanda currently lives right down the street from the office in Liberty with her spouse Heuy, her daughter Amara, and her stepdaughter Paige. Outside of working hours, you can often find her traveling, watching her daughter play basketball, cruising with her husband in his 1956 Pontiac Chieftain, and volunteering with the Big Brothers Big Sisters program.
Elizabeth, Practice Administrator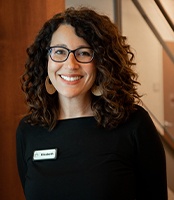 Originally from Kearney, Elizabeth studied at Metropolitan Community College. Today, she's been a part of Dr. Byars' team for over eight years. She strongly believes that our practice has the BEST patients ever, and she cherishes the connections she makes with them on a daily basis!
Elizabeth has an amazing husband named Adam, as well as a son named Sam, and a daughter named Bella, and a dog named Sweet Baby Glenn. Outside of working hours, you can often find her eating pizza and hosting family game nights.
Jenny, Practice Administrator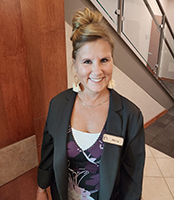 Jenny brings over a decade of dental experience to our practice, and before joining us, she had a 20-year career in hospital management. She personally enjoys meeting all of our patients and likes how our entire team does everything they can to help people feel welcome here.
Jenny grew up in Kansas City and now calls Kearney home. She and her husband, Mike, have one daughter, one son, and FIVE very active grandkids. When she isn't spending time with family, she likes to take trips to her lake house and travel.
Paige, Dental Assistant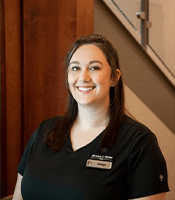 Paige hails from Hartford, KS originally, and her career in dentistry covers well over five years so far. What she enjoys most about her positions as one of our dedicated assistants is getting to see patients smile brightly again when they're finished with treatment!
While her family still lives in Hartford, Paige enjoys calling the Kansas City/independence area home with her dog Remy. Outside of working hours, her biggest hobbies are playing around with her pup and bowling.
Devi, Dental Hygienist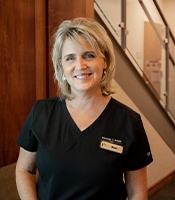 Devi is from Portland and has been working in the dental world for well over 20 years so far. She studied dental hygiene at Sacramento City College. Today, what she likes most about her position, other than keeping smiles healthy, is meeting all of the fascinating people that come into the office. There are so many good stories to share – she's even had the opportunity to work with her husband in order to share some of those stories on TV!
Veronica, Dental Hygienist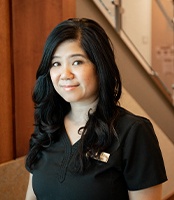 Veronica's career in the dental field covers two full decades and counting. She completed her education at the University of Missouri – Kansas City and is certified in CPR and nitrous oxide. What she enjoys most about being a hygienist is getting to know each patient and their family on a wonderfully personal level.
Veronica actually hails from Lima, Peru originally! Today, she is happily married with four amazing pups at home. Outside of work, her favorite hobbies are hiking with the dogs and spending quality time with family and friends. Her husband always gets annoyed about this, but she also really enjoys putting ketchup on her steaks.
Jessica, Expanded Functions Dental Assistant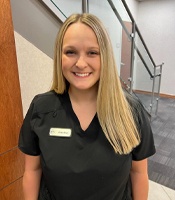 Jessica (or "Jess") entered the dental field back in 2011! She studied dental assisting at Concorde Career College, and she is now an expanded functions dental assistant with experience in fixed prosthetics, Restorative I, Restorative II, and much more. Her favorite part of her job is taking care of patients, making them feel comfortable, and developing genuine relationships with them.
Jessica's family consists of her mom and dad, her brother, her long-term boyfriend, Tommy, and his two daughters. She also is a big animal lover and has two dogs and a cat at home. Other interests of hers include going on walks, participating in her local church, and collecting nutcrackers!