Root Canal Therapy – Kansas City, MO
Say "Goodbye!"
To Your Toothache
Ever said, "I'd rather have a root canal," when someone asked you to do an unpleasant task? You're not alone. Root canals have a reputation for being extremely painful, but in actuality, they significantly relieve the terrible toothache that usually precedes them almost instantly. If you're experiencing a bad toothache and sensitivity to changes in temperature, you may have a root canal infection, but don't worry. Root canal therapy at Byars Dental is fast, comfortable, and effective. Contact our team right away if you're experiencing any of the warning signs of a root canal infection. The sooner we get started, the sooner you'll feel better!
Why Choose Michael C. Byars, DDS for Root Canal Therapy?
Same-Day Appointments Available for Patients in Pain
Sedation Dentistry Calms Any Dental Nerves
Care That is Always Comfortable & Gentle
How Root Canal Therapy Helps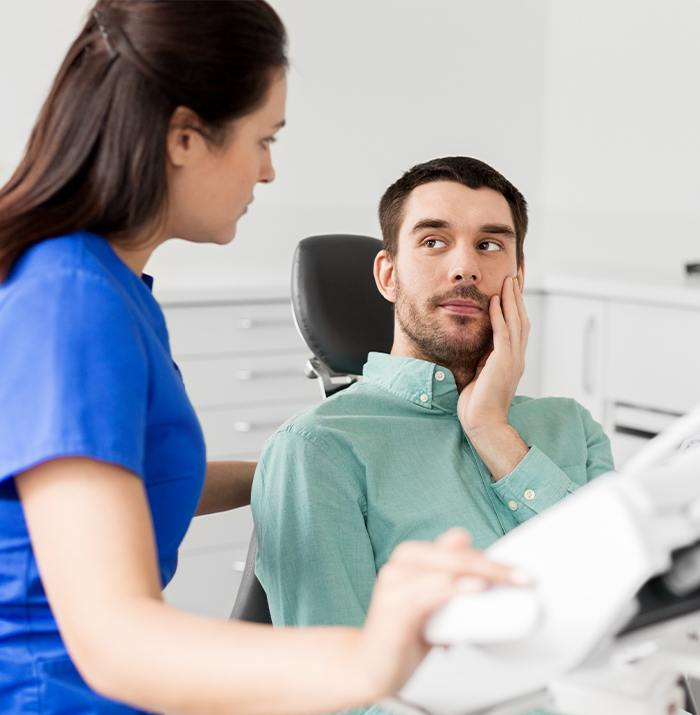 The pain that's relieved by root canal therapy is usually caused by decay, infection, or dental damage that has accessed the innermost layer of a tooth, the pulp, where the nerve is housed. When bacteria or trauma reaches the nerve, the result is often a severe toothache. Root canal therapy begins by removing the painful, infected pulp. Then, the tooth is refilled with a biocompatible substance. Finally, we reseal the tooth, and in most cases, we place a dental crown to protect and strengthen it.