Invisalign – Kansas City, MO
Get a Straight Smile with Clear Aligners
Did you know you can achieve a straight smile without brackets and wires? Invisalign is the preferred orthodontic treatment among teens and adults because it's virtually invisible. Clear aligners apply continual pressure to the teeth, gradually moving them into alignment. You'll enjoy a discreet solution to help you feel confident throughout your treatment. Dr. Byars will create the customized plan you need to invest in a straight, healthy smile.
Why Choose Dr. Michael C. Byars for Invisalign?
More reliable & comfortable than mail order aligners
Individually designed for every patient
Able to help adults & teens alike
How Does Invisalign Work?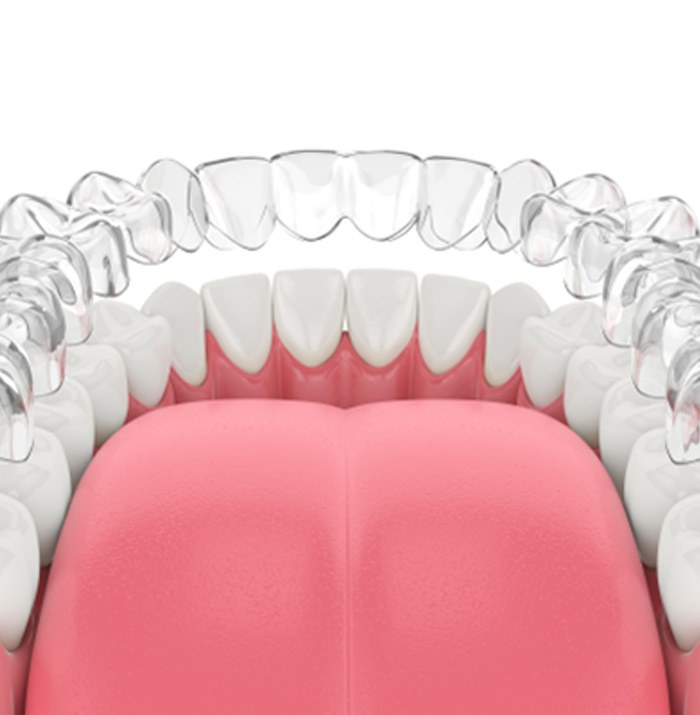 Brackets and wires pull your teeth into position, which is effective in correcting even the most complex issues. Unfortunately, braces can be very noticeable. Invisalign resolves the common complaints of metal braces because it doesn't involve any brackets or wires.
Instead, impressions of your mouth are taken, which integrate with state-of-the-art technology to map the movement of your teeth. The information is transferred to a series of aligners you'll wear over your teeth to move them into position. You'll need to commit to wearing the aligners for at least 22 hours per day. You'll switch to the next aligner in the series after about 1 week. On average, it takes 12-18 months to finish the treatment.
Indications for Invisalign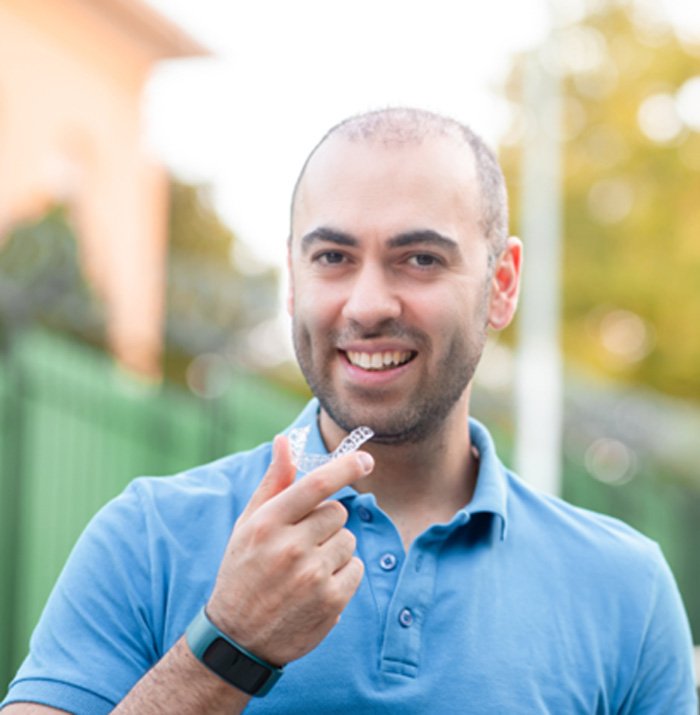 Invisalign is effective for correcting a variety of bite and alignment issues that can lead to dental problems, including:
Crowded Teeth
Teeth that overlap or are crowded are difficult to clean, increasing your risk of tooth decay and gum disease.
Learn More About Invisalign for Crowded Teeth
Spaces Between Teeth
Food particles and plaque can get trapped in large spaces between the teeth.
Learn More About Invisalign for Gapped Teeth
Bite Alignment
Bite issues can lead to jaw pain, dental concerns, and even difficulty biting, chewing, or speaking.
Learn More About Invisalign for Bite Alignment
What are the Benefits of Invisalign?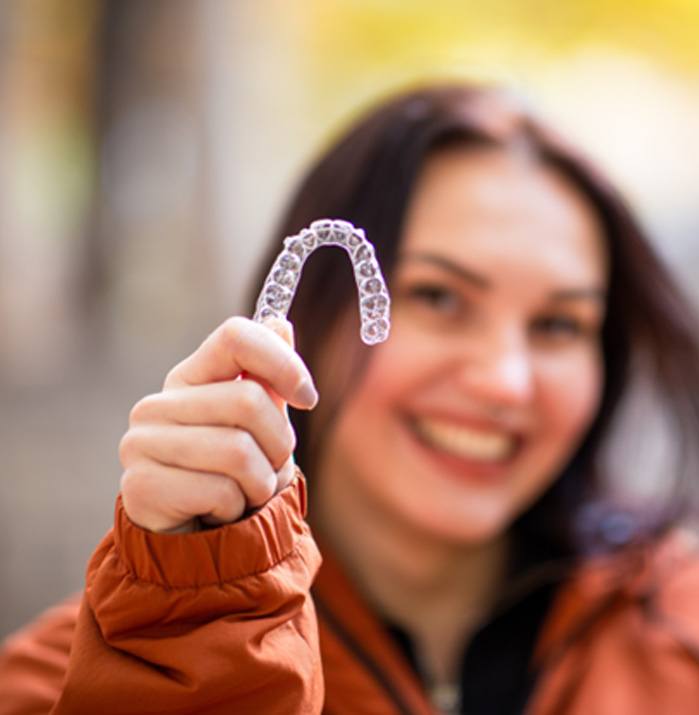 When compared to traditional braces, Invisalign offers a variety of benefits, including:
Nearly invisible
Doesn't irritate the inside of the lips or cheeks
Quicker results
No dietary restrictions
Easy maintenance and care
Less time in the dental chair
Convenient
What is the Cost of Invisalign?
There isn't a set fee for Invisalign because the cost is determined by your specific treatment plan, like the number of aligners you'll need. On average, complex cases will require more aligners than what's needed when making simple adjustments.
We'll work on your behalf with your insurance carrier to file the necessary forms to lower the amount you pay out-of-pocket. A member of our team will work with you to help you find the solutions you need to achieve a straight smile without breaking the bank.
Invisalign Aftercare Tips
Clear aligners can be the ideal option to fix your smile if you keep a few tips in mind:
Wear your aligners for at least 22 hours per day
Switch to the next aligner in the series on time
Don't eat or drink anything except water while wearing them
Brush your teeth and rinse your aligners before placing them back into your mouth
Clean your aligners daily
Maintain your check-in appointments
Invisalign FAQs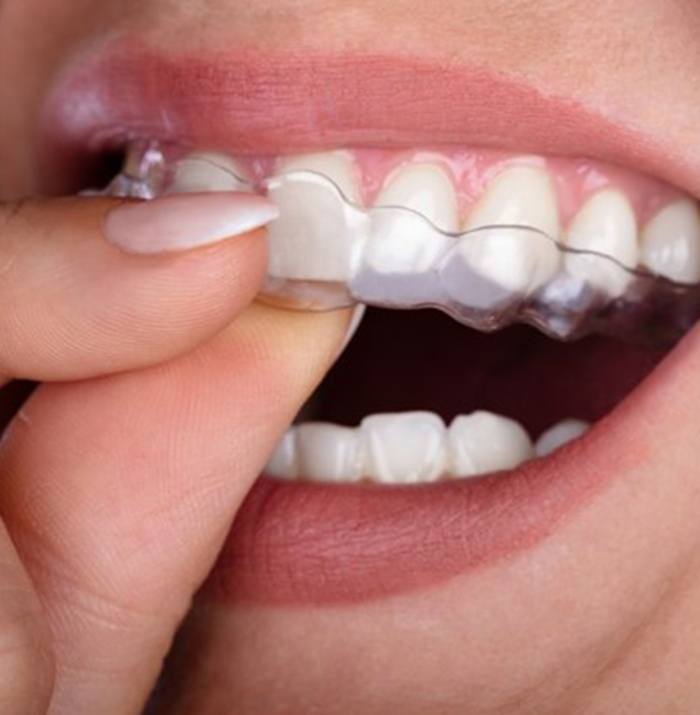 When you consider all of the benefits that Invisalign has to offer, it's no wonder than more and more people are choosing to straighten their smiles with this method rather than traditional braces. However, it's perfectly natural to have a few questions about the treatment process. That's why we've included this section with some frequently asked questions about Invisalign. Don't be afraid to call us if you have any further questions. Our team would be more than happy to help!
How Long Does Invisalign Treatment Take?
The length of your treatment will depend on several factors, such as how misaligned your teeth originally were and how dedicated you are to wearing your aligners for 22 hours a day. Older patients generally have to wear the aligners much longer, as their teeth are more firmly established in their jaws.
Most patients finish Invisalign within 12 to 18 months. While that might sound like a long time, it's worth mentioning that traditional braces often take 24 to 36 months. We'll develop a customized treatment timeline for you during your consultation.
Will I Be Able to Speak Clearly While Wearing the Aligners?
Initially, the trays will feel like a foreign object in your mouth, so it will take a few days to get used to them. Some people have no trouble speaking clearly, while others may have a slight lisp at first. It shouldn't take more than a week for your tongue and lips to grow accustomed to talking while wearing the aligners.
What Happens If I Lose One of My Aligners?
You'll wear every set of trays for about two weeks. We usually recommend hanging on to your previous trays just in case you lose your current pair. That way, if you misplace your aligners, your most recent set will act as a temporary retainer to prevent your teeth from shifting out of place.
As soon as you lose a tray, call us and begin wearing your previous set. We'll contact the Invisalign lab and have them make a new pair, which might take a couple of weeks. Although your treatment time will be prolonged, at least your teeth won't move back to their initial positions.
Can I Still Wear Invisalign If I've Already Had Braces?
Most likely. Many people who had braces had their teeth move back, at least partially, after not wearing their retainer. In most cases, Invisalign is a great choice, since the braces typically corrected the major alignment problems. Plus, your treatment might take even less time than patients who have never worn braces.
Will I Have to Wear a Retainer After I'm Done with Invisalign Treatment?
Yes. Otherwise, your teeth will revert back to their original position since that feels most natural to them. With Invisalign, your retainer will be another set of clear trays that look and feel like your aligners. At first, you'll wear them for 20-22 hours a day, but later on, you can switch to only wearing them at night.
Can You Drink Coffee with Invisalign?
Although you can drink coffee throughout your teeth-straightening journey, there is one rule you need to follow: you have to remove your aligners first. As your dental team, we also have a few additional recommendations, including using a straw, rinsing your mouth thoroughly with water afterward, and drinking this caffeinated beverage with your breakfast or lunch to help you meet the 20+ hour-a-day wear-time.
Does Invisalign Hurt?
No, Invisalign does not hurt. However, it is completely normal to experience some short-term soreness after switching to a new aligner. That's because your teeth are moving the most in the first few hours or days following the start of a new set of trays. Don't worry – there are several things you can do to alleviate your discomfort, including sipping on cold water and sticking to soft foods. You can also take an OTC pain reliever about 30 minutes beforehand and switch to each new set of aligners directly before bed so you sleep through much of the adjustment period.
Can You Eat with Invisalign?
Eating with your Invisalign aligners in can cause them to stain and warp, making them yellow and virtually useless. That's why you always need to remove them before you eat! Since oral health issues like tooth decay and gum disease can also bring your treatment plan to a temporary stop, we recommend eating a well-balanced diet that's filled with sweet potatoes, carrots, apples, and other nutrient-dense foods.
How Do I Clean My Invisalign?
It's quite easy! First, gently rinse your aligners off with clean, lukewarm water. Then, dampen the bristles of a soft-bristled toothbrush with some water before carefully scrubbing your aligners. When you're done, rinse your aligners thoroughly before putting them back in your mouth. That's it!
Note: If your trays are looking quite yellow or are smelly, then you might be interested in learning how to provide them with a deeper clean. The answer is the Invisalign cleaning crystals. All you need to do is dissolve a packet in some slightly warm water. Carefully place your aligners in the mixture and shake the container to dissolve the crystals. After about 15 minutes, you can remove your trays, rinse them thoroughly, and put them back in your mouth.
Who is Not Eligible for Invisalign?
Of course, Invisalign isn't a great fit for everyone. For example, if your case of malocclusion is more severe, then you'll likely need traditional braces instead. During your initial appointment, we will also check for tooth decay, gum disease, and other serious oral health problems. If we detect any, then we will need to intervene with the necessary restorative care before creating your clear aligner treatment plan. Otherwise, there could be complications with the movement of your teeth.
Schedule Your Consultation Today
You can achieve a confident, straight smile without brackets and wires. Contact our office today to schedule your consultation for clear aligners.