Smile Makeover – Kansas City, MO
Giving You a Look You Deserve
Dr. Michael Byars knows how an imperfect smile can negatively impact your self-esteem. When chips, gaps, stains, cracks, and even missing teeth occur, it can be difficult believing there is a solution that can fix all these problems. Fortunately, there is! With the help of a smile makeover, Dr. Byars can customize a treatment plan that addresses all your problem areas and fully transforms your appearance, giving you the smile you deserve. No matter how damaged or decayed it may be, our team can give you hope for a brighter future. Contact us today to schedule a consultation with Dr. Byars.
What is a Smile Makeover?
A smile makeover is a specialized dental treatment that combines one or more cosmetic dentistry procedures to transform your smile. Because each patient is different, Dr. Byars will create a customized plan based on your individual needs, making sure to take care of any cracks, chips, fractures, breaks, missing teeth, gaps, stains, discoloration, or poor alignments.
Smile makeovers are an ideal solution for someone looking to make a drastic change and who want a "wow" factor when surrounded by others.
What Are the Goals of a Smile Makeover?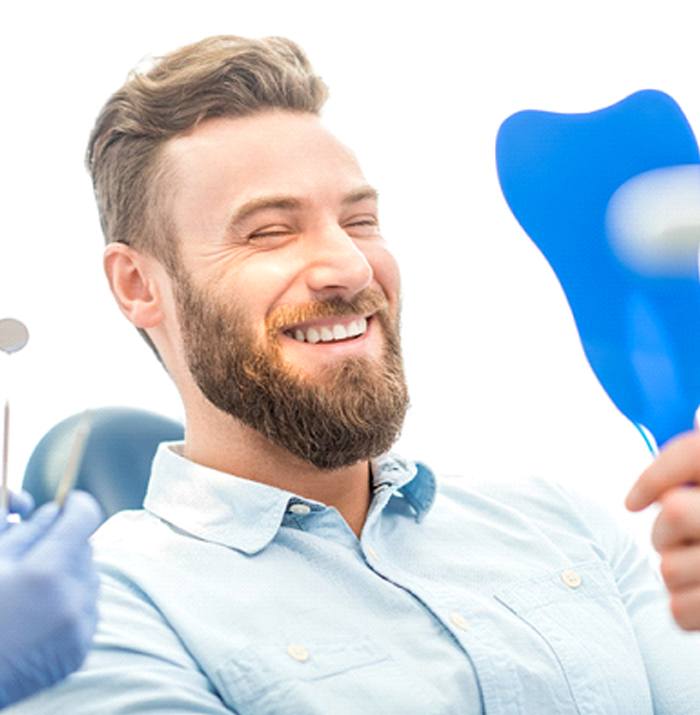 When meeting with your cosmetic dentist during your consultation, you will discuss what you like and don't like about your smile as well as the goals you hope to achieve through the process. This discussion and thorough evaluation will give Dr. Byars the insight needed to formulate a plan that will address your concerns and give you the smile of your dreams.
Some of the most common areas a smile makeover can fix include:
Missing Teeth: Although dental implants, dentures, and fixed bridges are considered restorative more than cosmetic, the addition of replacement teeth can certainly improve your aesthetics. Should you be missing one or more teeth from your lower or upper arch, Dr. Byars can recommend dental implants to help restore your smile and improve your oral health.
The Color of Your Teeth: Stains and discoloration naturally occur over time and fortunately, teeth whitening, porcelain veneers, metal-free restorations, and even cosmetic bonding can hide unsightly stains. Dr. Byars will identify which teeth need treatment and determine the best course of action based on the severity of the problem.
The Symmetry of Your Smile: If your gums appear uneven, not to worry. Dr. Byars is capable of performing gum recontouring/crown lengthening to remove excess gum tissue and create a more even and beautifully symmetrical smile.
Alignment and Spacing: Unhappy with your overbite, overcrowding, or gapped teeth? Dr. Byars can offer Invisalign to fix misaligned bites, crooked, overcrowded, and large gaps, all of which can negatively impact the look of your smile and lead to chronic jaw pain and other common dental problems (i.e., tooth decay, gum disease).
What Procedures Are Included in a Smile Makeover?
Dr. Byars is ready to help you achieve your best look with the help of a smile makeover. During your consultation, he will provide you with the complete list of cosmetic dentistry offerings and recommend the right one(s) for you:
Porcelain Veneers: These ultra-thin sheaths of porcelain are placed over each tooth to cover cosmetic imperfections and can last a decade or more with proper maintenance.
Metal-Free Restorations: Whether you need a crown, bridge, inlay, or onlay, Dr. Byars can repair your damaged, decayed, or missing tooth with a tooth-colored restoration that blends in beautifully with your smile.
Cosmetic Bonding: Using cosmetic resin, which is a malleable and color-matched material, Dr. Byars can apply this directly onto your tooth enamel, shaping and sculpting it to cover minor imperfections.
At-Home Teeth Whitening: We can provide professional-strength bleaching gel and customized trays for you to use at home to whiten your smile. Within two weeks, you will notice a dramatic difference.
Gum Recontouring/Crown Lengthening: Want to get rid of excess gum tissue? Need a dental crown but don't have enough tooth structure available? Dr. Byars can easily remove the excess tissue and give you a more even appearance, allowing you to achieve greater aesthetic balance.