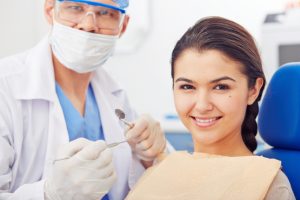 Crowns, bridges, fillings, veneers, implant restorations–whatever your smile needs, Dr. Michael Byars supplies it. This skilled, compassionate Liberty, MO dentist delivers the simplest to the most dental treatments, making smiles thrive beautifully.
Patients come with restorative needs
Dr. Michael Byars and his staff are well-known for putting the patient first in their Liberty, MO practice. More than just a set of teeth and gums, Dr. Byars' patients are people who need and desire superior preventive, restorative and cosmetic dental care. That's what Dr. Byars is committed to providing.
When an individual presents with a restorative need–decay, gum disease, a missing tooth–Dr. Byars carefully examines the patient's mouth to determine how best to ease pain and preserve natural tooth structure. He offers many precise and up to date restorative treatments that optimize dental health for patients of all ages. They include:
Fixed bridgework to span a smile gap of one or more missing teeth in a row
Tooth-colored fillings made of durable composite resin for excellent repair and aesthetics
Porcelain, ceramic, porcelain and metal and gold crowns, tailor-made to cover teeth damaged by injury, decay or congenital defect
Dental implant restorations for single artificial teeth and dentures secured in the jawbone for stable, natural-looking tooth replacement
Root canal therapy to remove diseased pulp and preserve tooth structure
Dr. Byars also tackles smiles that seem hopelessly damaged. Using quality materials, digital imaging and excellent hands-on skills developed by advanced study, Dr. Byars crafts new, secure and functional smiles in exceptional full-mouth reconstructions. Check his patient testimonials and smile gallery to see what his satisfied patients have to smile about!
Patients come with aesthetic goals
Chipped teeth, dark ugly stains–perhaps a smile is healthy, but the patient can't show it off because of obvious and embarrassing imperfections. Dr. Byars and his team understand that how your teeth and gums appear affects how you feel about yourself and even how world perceives you.
So, Dr. Byars incorporates cosmetic dental goals into his comprehensive treatment plans. One of his most effective, budget-conscious and simple cosmetic dental treatments is professional teeth whitening.
Accomplished in the office or via custom-made whitening trays for at-home use, professional teeth whitening gives patients with stained teeth a refreshed, bright look. The active ingredient in teeth whitening gel actually lifts staining organic material out of tooth enamel. The in-office treatment takes about an hour. The at-home process takes a week or so. Both methods result in a smile up to 8 shades brighter in color. And, there are no adverse side effects because whitening is dentist-supervised.
Another amazing cosmetic treatment is porcelain veneers. Individually crafted from dental impressions and digital imaging, these micro-thin ceramic shells cover the front side of teeth that have dark discolorations, chips and cracks. They even refurbish teeth that are mildly crowded, overlapping or gapped, giving veneers the nickname, "instant orthodontics."
Dr. Byars is a master at crafting this permanent cosmetic improvement. He can even preview how a finished smile will look before starting the porcelain veneer process. Veneers last for many years with good at-home and in-office dental hygiene.
Would you like to start smiling again?
You can as a patient of Michael Byars C. Byars DDS in the Liberty, MO area. If you would like to see Dr. Byars for a smile analysis, contact his office staff to arrange a one-on-one appointment. You'll enjoy the welcoming environment and the outstanding care you'll receive.