Invisalign® Clear Braces – Kansas City, MO
Straighter Teeth,
No Metal Braces
Want to make yourself look years younger? Straighten your misaligned teeth. Want people to think you're smart and trustworthy? Get braces. Want to be considered a warm and friendly person? You got it—have your teeth straightened! Studies show that people who smile with straight teeth enjoy a lot of sociological and emotional benefits. If you're thinking, however, that you'd like to straighten your teeth, but you don't want to deal with a mouthful of metal for a couple of years, consider Invisalign.
Why Choose Michael C. Byars, DDS for Invisalign® Clear Aligners?
More Reliable & Comfortable Than Mail Order Aligners
Personally Designed for Every Patient
Able to Help Adults & Teens Alike
Invisalign®: An Alternative to Metal Braces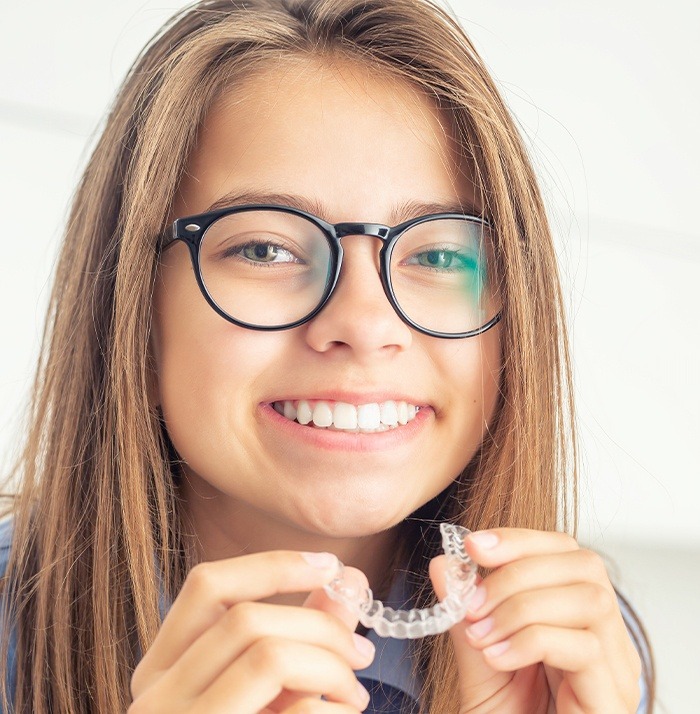 Instead of metal brackets and wires to move your teeth into the correct position, Invisalign uses a series of clear plastic aligners. Made of smooth, BPA-free plastic, these aligners fit snuggly yet comfortably over the teeth along both your upper and lower arches. You'll never have to worry about unsightly metal, poking wires, or food that gets stuck in your braces. In fact, when you want to eat, simply remove your Invisalign aligners and enjoy any foods you like. Likewise, you'll remove your aligners to brush and floss your teeth—a distinct advantage over traditional braces, which are often an obstacle to good oral hygiene.
The Invisalign® Treatment Process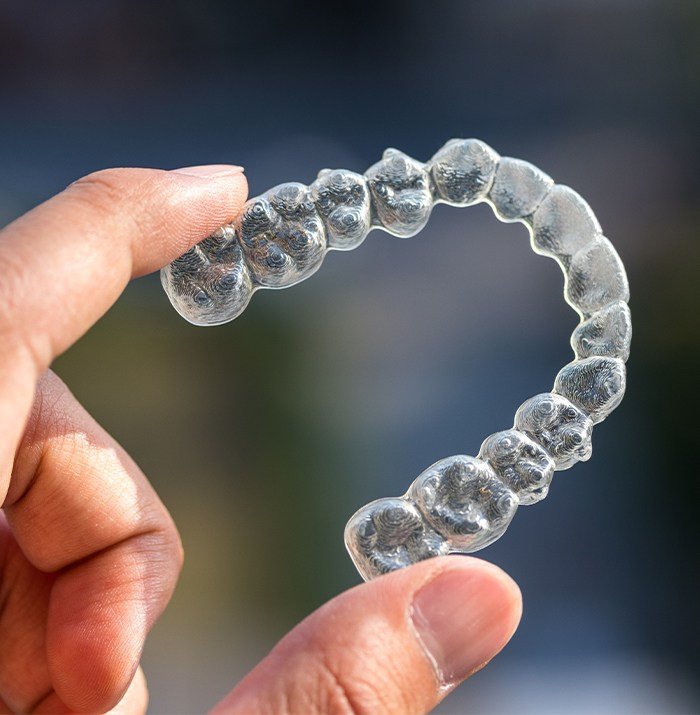 For your Invisalign treatment, we work in conjunction with an Invisalign lab to develop a plan uniquely designed for you. The process begins with us taking a comprehensive set of photos, X-rays, and impressions of your teeth that the lab converts into a virtual diagram of your smile. From this, your customized aligners are designed and fabricated.
These arrive at our office in Kansas City, MO in an organized series of sets. All you have to do is wear each set for two weeks, and then, move to the next set. As you go from set to set, you will begin to see your smile straighten.
Of course, you'll need to come see us for occasional progress checks, but there will be no adjusting or tightening like with standard metal braces. Typically, orthodontic treatment with Invisalign takes between one to two years. At the end of your treatment, you'll have a beautiful and straight smile. Ask us about how Invisalign can help you look younger, smarter, and friendlier!