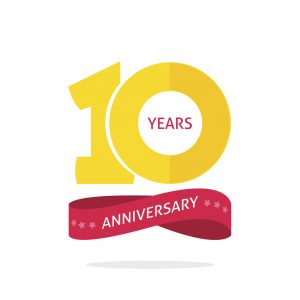 It's official – since Dr. Michael Byars is celebrating his 10-year anniversary as your superior dentist in Kansas City, we can now say he's got a decade of experience in dentistry. And what's kept his practice around so long? Patients love us – from his expertise in oral healthcare to his warm, compassionate chairside manner, people want to come back and see our dentist more than just twice a year. And to show his appreciation of the smiles he's cared for, Dr. Byars is throwing a patient appreciation party to celebrate his anniversary. Come celebrate with us and learn more about this KC native in this post.
What Makes Dr. Byars Different?
As a lifelong member of the Kansas City community and a graduate of the University of Missouri – Kansas City School of Dentistry, Dr. Byars has the qualifications you're looking for in your Kansas City dentist. He provides comprehensive services for patients of all ages, and prides himself on providing the best looking dental implants in the area. He's a member of several professional associations, too, and takes giving back to his community seriously – he's involved with many community outreach programs including the YMCA's Healthy Kids Day. And, from his 5/5 star rating on SolutionReach.com, you can see for yourself why we're the right choice to care for your smile.
How Can I Help Dr. Byars Celebrate His 10-Year Anniversary?
This is such an exciting time for Dr. Byars and we'd love it if you celebrated with us. Here are the details for his upcoming patient appreciation party:
Date: Thursday, June 22nd from 4-8pm
Venue: Clayview Country Club
Address: 7990 N Farley Ave
Kansas City, MO 64158
Food:

Grilled hamburgers and hotdogs
The Funnel Cake food truck
Cotton candy and popcorn
Cupcake decorating station

Activities:

Carnival games with prizes
Giveaways of: teeth whitening gift baskets, Worlds of Fun theme park passes, gift cards, and more
Bouncy house
Obstacle course
Face painting
Character artist
Airbrush tattoos
Fun music from our DJ
Since we enjoy taking care of your family, this care extends to our family-friendly event. Bring the kids, and even grandma and grandpa to get to know their dentist in a relaxed, fun atmosphere. This party and our friendly staff will give you a lot to smile about!
Call us at (816) 496-4584 for more details on the party.
Now that you know why Dr. Byars is the dentist for you, and that you should come celebrate his 10-year anniversary with us, schedule your appointment today to receive the best oral healthcare in KC!