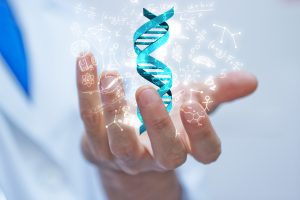 Our genes are the code behind much of what we are. They determine our height, our eye color, whether we have certain diseases, and even whether we can roll our tongue. They may even play a role in our personality traits. But does our DNA also have an effect on our oral health? Your dentist near Liberty, MO is here to discuss this fascinating topic.
Your Genes and Your Smile
About 60 percent of a person's risk for tooth decay may be linked to genetic factors, according to Mary L. Marazita, an expert at the University of Pittsburgh School of Dental Medicine.
But what exactly are the factors that can play a role in whether your smile thrives or suffers?
Your sweet preference. Some people's genes influence them to crave sugar all day every day, whereas other people could care less about the donuts in the break room. Logically, the more sweets you indulge in, the more likely you are to suffer from tooth decay.
Tooth enamel. DNA blesses some people with very tough, very hard tooth enamel. Others have softer enamel and are at a higher risk of cavities.
Saliva helps to wash away bacteria and prevent tooth decay. Genetics can play a role in the composition of your saliva, thereby affecting how good it is at protecting your teeth.
Taste ability. This refers to a person's ability to enjoy certain tastes (for example, some people's genes don't allow them to enjoy cilantro). The greater a person's taste ability, the less likely they are to develop tooth decay. Scientists don't know the exact reason behind this correlation.
Your Genes and Your Gums
There is a definite link between gum disease and genetics. In fact, a recent study revealed 41 different genes that may be related to periodontal problems. Most of the genes are linked to the body's immune responses and tendency toward inflammation. According to one estimate, about 30 percent of the population may have a genetic susceptibility to gum disease, and about half of the total cases of gum disease may be related to genetics.
Are You Doomed to Bad Oral Health?
If you think your genes have doomed you to a suffering smile, you're probably wrong. Modern dentistry has the tools to help you keep your teeth and gums in good shape regardless of what your DNA may say. With good oral hygiene habits and regular dental visits, you can do a lot to preserve your oral health. And even if your genes have already caused you to have some problems, your Liberty, MO dentist would be happy to help you recover and once again enjoy a mouth that is free from serious issues.
About the Dentist
Dr. Michael C. Byars is proud to serve the folks in Liberty and Kansas City. He offers preventive services as well as a range of other treatments to help patients attain and maintain healthy smiles — despite any genetic predisposition they may have to oral health problems. If you would like to learn more about Dr. Byars or schedule an appointment, please contact our office at 816-781-8222.