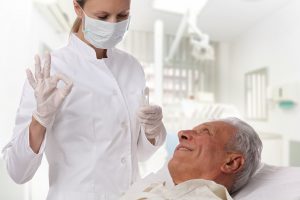 Your dental hygienist may be the best kept secret in your dentistry office. Hygienists are skilled professionals with advanced training and expertise that allows them to help patients achieve and maintain their healthiest smiles. Next time you visit your dentist's office for a preventive dentistry appointment, take the time to talk to your hygienist. They can help you achieve and maintain the optimal level of oral health for a lifetime of healthy, beautiful smiles.

1 – Are there Areas of My Smile I Should Focus On?
Most patients think they're doing a great job brushing and flossing their teeth, but you'd be surprised how often there are specific areas that get missed. We are all creatures of habit, and when you know what spots you're missing, you can improve your oral hygiene routine and decrease risk for oral health concerns.
2 – Can You Offer any Brushing or Flossing Tips?
Dental hygienists love helping patients improve their oral health and hygiene routine. That's no secret. Whether you're trying to help kids learn to brush and floss independently or you want to ensure your hygiene routine is having maximum benefit, a dental hygienist will be happy to demonstrate the best methods for brushing and flossing.
3 – Am I Using the Right Oral Hygiene Products?
The truth is, most oral hygiene products will get the job done, but there may be products available that are better for your unique smile. A dental hygienist can offer product recommendations to meet your personal oral health and hygiene needs. Don't hesitate to ask about your current products and how you can improve your at-home hygiene routine by making some small changes.
Meet Dr. Byars
At the Kansas City dentistry practice of Michael C. Byars, DDS, we offer a wide range of treatment options to keep patients' smiles whole and healthy for life. That includes helping patients maintain their oral health through regular dental checkups and professional teeth cleaning appointments in our state-of-the-art Kansas City dentistry practice. Veronica, our registered dental hygienist, and any member of our dentistry team will be happy to answer all of your oral health and hygiene questions, so please don't hesitate to ask. We love working with patients to achieve their optimal oral health. A lifetime of flawless smiles is something every patient deserves. Whether it's been six months or six years since your last dental appointment, call our dentist and dentistry team to schedule your visit today.