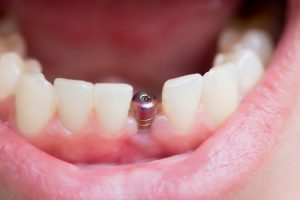 As we age, things start to slow and break down. Unfortunately, it's just a fact of life. Does that apply to your oral health, too? Your implant dentist in Kansas City says it does and weighs in to explain the causes of age-related tooth loss and what you can do in response, so that you can be fully restored and maintain the way of life you've always had.
Why Do People Lose Their Teeth Later in Life?
Recent studies show some telling statistics:
According to the Centers for Disease Control and Prevention, by age 17, 7 percent of people in the United States have lost at least one tooth.
Among adults between the ages of 35 and 44 years-old, 69 percent have lost at least one permanent tooth.
By age 50, people have lost an average of 12 teeth.
For seniors between the ages of 65 and 74, nearly a third of them have lost all their teeth.
The main culprit behind these statistics is the bacterium and the decay that it causes. Thankfully, there's a way to treat an outgrowth, so that you can then be fully restored, functional and confident about your appearance with dental implants.
How Dental Implants Can Restore Your Smile
Dental implants aren't the only way to restore your smile, but they offer the soundest method. That's because the titanium posts attach to your underlying bone and fuse with it over time to form a sturdy foundation.
This helps to prevent any facial collapse and premature wrinkling that result from prolonged tooth loss, while also providing a solid base for a restoration fixture like a crown, bridge or set of implant-retained dentures to attach to.
How Implants Differ from Traditional Dentures
As mentioned above, there are other methods of restoring your smile and dental function. One of the main ones is removable prosthetics. While this method does provide some jawbone support, it can't compare to the dental implant procedure because the dentures rest on your gums.
One of the problems with this route is that it can't fully address the bone degeneration that comes along with prolonged tooth loss. That's because it doesn't restore the healthy pressure that's provided by your teeth's roots.
Don't Let Time Pass You By
If you're suffering from teeth loss, it's important to act on it. That's because the longer you wait, the more bone degeneration you can endure. If too much occurs, you could compromise your chances of being eligible for the dental implant procedure and may require a special bone grafting process to build up the area around where the implant will be placed, so that it'll seat properly.
With the help of your Kansas City implant dentist, you can soon enjoy the feeling of being completely restored. To get the process started, reach out to your local professional to schedule a consultation today!
About the Author
Dr. Michael Byars earned his dental degree from the University of Missouri at Kansas City School of Dentistry and then went on to complete a year-long residency with a focus on cosmetic and implant dentistry. He has been "Voted Best of the Northland" and continues offering the best of care to his patients at his private practice. Dr. Byars can be reached for more information about how he can restore your smile through his website.