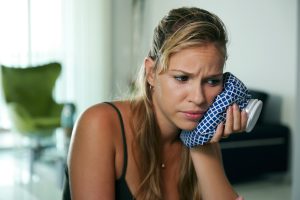 Your dentist in Liberty Missouri may need to perform an extraction if one of your teeth is infected, overcrowded, fractured or impacted. It's important to follow your dentist's directions to ensure the post-extraction healing process occurs smoothly. In many cases a dental implant can restore lost functionality.
What Makes an Extraction Necessary?
Your teeth work best when all of them are healthy and in place. Even a single missing tooth can create unnatural stress on those surrounding the gap, leading to further problems down the road. It's for this reason that most dentists prefer to avoid extractions unless absolutely necessary.
Sometimes, though, extracting the tooth is the only reasonable course of treatment. This can apply to any of the following circumstances:
When the tooth is in an extensive state of decay. Sometimes a tooth is too far gone to save with a root canal or other restorative therapy. When this happens, an extraction may be necessary to prevent infection from spreading throughout the patient's mouth.
When a tooth is impacted. This is a common occurrence with wisdom teeth.
When you have too many teeth for your jaw. In some cases an extra tooth can prevent other teeth from emerging normally, making extraction necessary.
When a tooth is damaged. Mouth trauma can lead to chipped or fractured teeth that must be extracted for the patient's health and well-being.
Your Liberty Missouri dentist will use pain blockers to ensure your comfort during the extraction procedure. He or she may also use anesthetics to help you relax.
Extraction of an intact tooth is usually a simple process. The procedure may become more complex if the tooth is fractured or has been weakened by infection. Treatment time can take from less than an hour to several hours, depending on the type of care needed.
A clot normally forms in the tooth socket after the extraction is complete. It's important not to disturb the clot, as it forms an essential part of the healing process. Your dentist may prescribe oral pain killers to minimize any discomfort you feel in the days after the extraction. You should avoid strenuous activities, hard or chewy foods, drinking with a straw or smoking for the first 24 hours.
Implants: the Long Term Solution
A tooth extraction is a safe, effective way to achieve short-term relief from dental pain and possibility of infection. Over the long term, however, most patients enjoy better results by replacing the extracted tooth with an implant. Here's why:
An implant is a true replacement for a missing tooth, unlike dentures or bridgework.
A properly placed implant can last 20 years or more if the patient exercises good self-care.
Dental implants act just like your natural teeth. You can enjoy a well-rounded diet, speak normally and participate in all your favorite activities free of worry.
Dental implants are virtually indistinguishable from your natural teeth, giving you greater self-confidence in social situations.
Your dentist can give you more information on tooth extraction, implants and other treatment options. Make an appointment to see him or her today if you're suffering from oral health issues.
About the Author
Dr. Michael Byars earned his DDS degree from Kansas City School of Dentistry. His range of expertise includes both general dentistry and cosmetic/implant procedures. You can reach his office online or by calling (816) 413-9009.