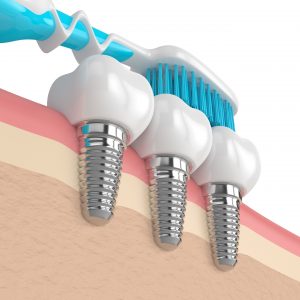 If you are among the 120 million Americans who are missing at least one tooth, you have heard about the benefits of dental implants. When compared to any other treatment, dental implants are the next best thing to your real teeth. Although you would like to visit your implant dentist in Kansas City to complete your smile, you are concerned about how long they last. There is no need to worry. With the right aftercare, your new smile can last for several decades.

How Long Do Dental Implant Last?
An implant post acts as a new tooth root. By surgically placing it into your jaw, it stimulates the bone to encourage new growth. This allows your jawbone to fuse to the post to remain in place forever if you care for it properly. In fact, dental implants in Kansas City have over a 95% 10-year success rate.
While your implant post should never need to be replaced, your restoration suffers from daily wear and tear. As a result, you will need to have a new one made about every 10 years.
Caring for Dental Implants
Dental implants are a big investment. To protect your new smile to ensure it lasts for as long as possible, it is best to maintain your oral hygiene habits. The biggest threat to the long-term success of the treatment is an infection. Thankfully, a proactive approach to your oral hygiene will reduce your risk to protect your smile.
Brush Twice a Day
Just as you do your natural teeth, your dental implant should be brushed at least twice a day to remove food particles and plaque. Use a soft-bristled toothbrush and nonabrasive toothpaste to clean all surfaces of the crown.
Floss Daily
Brushing is only half the care your dental implant needs. To clean areas missed by your toothbrush, take the time to floss every day. Choose a high-quality dental floss to clean around the abutment and post. This can be a bit difficult for some people. As an alternative, you may find a water flosser to be easier and more effective.
Visit Your Dentist
Visit your dentist at least twice a year for a cleaning and checkup. Besides keeping your new smile looking fantastic, they also check your dental implant to ensure it is functioning as intended. Routine care allows your dentist to detect concerning issues early to provide quick intervention. This lessens the potential for late-term implant failure.
Complete Your Smile Today!
Dental implants give you a cost-effective solution to replace your missing teeth because they are designed to last. With the right aftercare, you can rest assured your new smile will serve you for several decades to come.
About Dr. Michael C. Byars
Dr. Michael C. Byars furthered his dental training to specialize in cosmetic and implant procedures. He uses the latest advancements in dentistry to help his patients achieve functional, beautiful smiles. If you are ready to replace your missing teeth, contact our office today to see if dental implants are right for you.