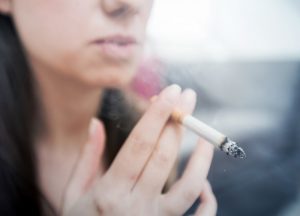 You've just made quite the investment on dental implants in Kansas City to replace a few missing teeth. Naturally, you want your smile to look its best; however, you're not quite ready to give up smoking. You know it's bad for your health, but do you know it can cause that bright, shining smile to go away? Let us explain just how easy it is for this bad habit to cause your dental implants to fail.
What Are Dental Implants?
Considered one of the most popular restorations for people with damaged or missing teeth, dental implants are an effective way to restore your smile without anyone noticing. An implant is a titanium post and acts as the root of your tooth. It is surgically placed in your jawbone, so it stays securely in place. Once the implant dentist in Kansas City places the root, a customized crown is made to sit on top of the implant. It seamlessly blends in with the rest of your smile. With dental implants, you don't have to worry about them slipping or shifting out of place.
Why is Smoking Detrimental to Dental Implants?
Any surgical procedure will require a certain amount of time for healing. This is no different with dental implants. Once the post is positioned in your jawbone, the area will need to heal properly so that the implant will fuse properly to the bone. If you smoke, your body's immune system is weaker, causing you to heal more slowly. You're also more prone to infection if you smoke. To discover other reasons why smoking can keep you from achieving a successful dental implant treatment, here are a few:
Lack of Saliva. Smoking can damage your saliva glands, and without an adequate amount of saliva to wash away any bacteria or food particles, you will start to experience dry mouth. This creates a haven for bacteria to grow around your implant.
Gum Disease = Bone Loss. When you combine dry mouth and growing levels of bacteria, you can develop gum disease. If caught in the early stages (gingivitis), you and your dentist may be able to remedy the situation; however, if it has progressed to a more advanced stage (periodontitis), you can begin to experience bone loss, which will cause teeth to fall out and your implant to fail.
Lacking Blood Flow. When dental implants are placed, you will need time to effectively heal. When nicotine enters the body, it reduces the amount of blood flow. This means, your new dental implant will receive an inadequate amount of blood flow and keep it from fusing to your jawbone, resulting in failure.
Smoking is one nasty habit, and while it may be hard to quit, your body and your mouth will thank you. If you spend the time and money to keep your smile looking beautiful, make sure you do everything you can to ensure it stays that way for years to come.
About the author
Dr. Michael C. Byars, DDS, earned a bachelor's degree in biology from William Jewell College before earning his DDS from the University of Missouri at Kansas City School of Dentistry. He offers complete dental care utilizing modern dental technology, and he provides his patients with a comfortable experience. Dr. Byars is interested in developing long-lasting relationships with his patients and creating smiles that will improve self-confidence and quality of life. To learn more about him, contact us at (816) 781-8222 or visit our website.