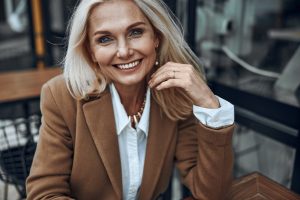 The state of your jawbone plays a big role in determining whether you are a candidate for dental implants. The bone has to have sufficient height and width in order to properly integrate with and support the implants. Since the jawbone's volume plays such a big role in the dental implant process, an important question arises: Is there a relationship between bone density and dental implant success? In this blog post, we'll discus some research that provides insight into this topic.
Osteoporosis and Dental Implants
Osteoporosis is a degenerative disease that causes the bones to lose density and strength over time. It causes its victims to be more prone to bone fractures and height loss. Although it is most common in postmenopausal women, it can affect both genders.
It is commonly believed that individuals with osteoporosis are not candidates for dental implants due to the weakened state of their bones. However, a scientific study indicates otherwise. The researchers followed 24 postmenopausal women who were getting dental implants, half of whom had osteoporosis, and half of whom did not. The ones with osteoporosis were taking bisphosphonates, a common drug for the condition. After one year, all of the dental implants were successful — yes, including the ones in the women with osteoporosis!
A separate study, which involved 20 women ages 50 – 80 who had osteoporosis or osteopenia, found similar results. The success of dental implants did not depend on whether a woman had osteoporosis.
What It May Mean for You
The above-mentioned studies had sample sizes that were quite small. It is clear that more research is necessary before we fully understand the relationship between bone density, osteoporosis, and dental implant success. However, the research does bode well for women with osteoporosis who have suffered tooth loss. There is no reason for you not to talk to an implant dentist about replacing your lost teeth. If your oral and overall health are in fair condition, you do not smoke, and you are committed to making your treatment a success, it is likely that you will be able to receive dental implants.
If you receive dental implants, they may even benefit your bone health! Since the implants bond with the bone around them, they stimulate it and help to keep it as strong and dense as possible. This preservation of bone mass occurs in practically all successful implant cases, regardless of whether the patient has osteoporosis.
Tooth loss can have a negative effect on your oral health, your emotional health, and your overall well-being. You should not let concerns over bone density hold you back from talking to your dentist about dental implants — they are the best tooth replacement option that modern medicine has to offer!
About the Author
Dr. Michael C. Byars is a dentist who is proud to serve families in the Kansas City area. After he finished dental school, he completed a residency that focused on cosmetic and dental implant procedures. If you would like to speak to him about replacing your missing teeth, contact our team today at 816-781-8222.